HELLO EVERYONE: We now utilize REVERB as our commerce outlet so please go there for things we have for sale, (since the product categories on the left of this page will be going away). The Reverb links are directly below, and you can alwsays call Jess in NY at 212-730-8138 or email Steve at vintagedrums@aol.com:

Going forward we will use this main website page for highlighting certain interesting items we have on Reverb; provide updates about cool incoming items; post interesting articles, videos and the like.

12/3/19: See the banner at left titled Steve's Videos Craviotto. This will cover lots of sets and snares we have had, and will be a great learning tool for different wood types and features such as different bearing edges etc. We'll also do this for Gretsch sets and cool vintage kits so that you can see and hear the differences.Also check out Steve's Video Media Classroom which has lots of past videos about products, vintage gear, past events and "around the shop". It's an archive of fun data for you to view at your leisure. Also check out Steve's Drum Facts, and Steve's Tuning Tips for more info.

Steve's Website Status Updates: HERE. Steve's Travel Schedule: HERE. DW buys Slingerland from Gibson! See Steve's video HERE. Coming Soon to IL shop: Ludwig mahogany club date downbeat kit-This is the limited edition with mahogany shells in mod orange!!! (these kits sold for $2099) plus a $759 matching reissue jazz festival snare.These drums are super light and sound deep and fat. Add a set of ultralight DW or TAMA hardware =gigging heaven. FAT sound, SUPER COOL color! Contact Steve at vintagedrums@aol.com.
12/3 UPDATE: ANNUAL ZILDJIAN "K DAY" EVENT SAT 12/7, 11-6pm in our NY store. 800 pounds of special one-offs and more, designed for Steve by Paul Francis! Come down and get deals all day on all Zildjian and also Vic Firth! This event is always huge. Don't miss it! HERE IS A SAMPLE OF WHAT WE WILL HAVE. HERE. AND MORE HERE.

****HOLIDAY SALE****. BLACK FRIDAY IS EXTENDED. ONGOING NOW TIL 12/15! ALL THREE STORES. (For Fork's call: 615-383-8343).

Killer Sonor SQ2 12/14/18! With video. HERE.
HERE IS A GRETSCH BROOKLYN KIT BLACK FRIDAY EXTENDED DEAL. 13/16/22/6.5 WITH VIDEO!

HERE

.
GRETSCH SHELL BANK DRUMS. USA CUSTOM, BROADKASTER, BROOKLYN. PRICES TOO LOW TO QUOTE. IN-STORE AND CALL-IN ONLY. ONLY APPLIES TO IN-STOCK DRUMS. Check our many listings in our Reverb stores, configure your dream kit sizes and finish, or just get an add-on drum for your set. Contact the shops for this one-time deal, or email Steve at vintagedrums@aol.com
SONOR SQ2 BLACK FRIDAY EXTENDED DEAL. Beech shells. 12/14/20 WITH VIDEO. HERE.


12/3/19: LATEST PRODUCTS Big Reverb Holiday Sale in progress for ALL three stores. Plus, our IL Reverb site just added 5 more in-stock Gretsch sets: HERE. And for our NY store (more Gretsch shell bank Brooklyn Espresso Burst, Brooklyn Satin Mahogany, Broadkaster Vintage Champagne Sparkle!): HERE. Fork's Reverb site added loads of Gretsch Brooklyn in our exclusive Mardi Gras finish! HERE.

12/3/19:
Gretsch Brooklyn Micro Bop in WMP. Special price on PASIC demo kit. HERE.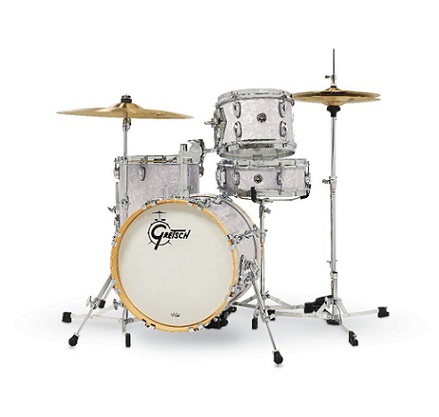 Craviotto 9x13, 16x16, 15x22 Maple/Poplar/Maple BB edges. Kit will be ready in 6 weeks! From the stash we uncovered after moving to Nashville. Bass drum made in 2012, the almost-finished tom shells were there too. Only the BD is signed by Johnny. In our IL Reverb store HERE.
Craviotto Stacked Solid Ash, double inlay 8x12, 14x14, 15x20. Ready to go! Just needs final assembly. These were found in the stash after we moved to Nashville. In our Illinois Reverb store HERE.
Gretsch USA Custom 10/12/14/20/5.5 Black Nitron. See it at our Fork's Drum Closet Reverb site. HERE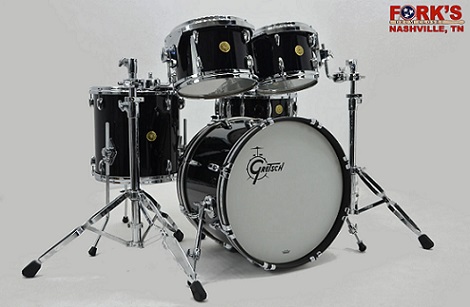 Gretsch Broadkaster 12/14/20, snare optional, in Vintage Champagne Spkle. In our NY Reverb store. HERE.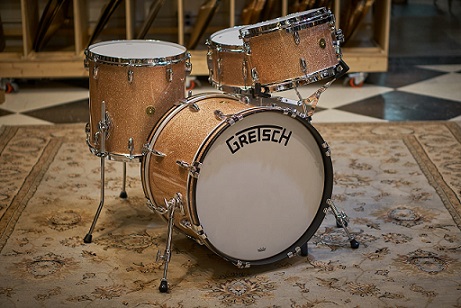 It's BACK! Ludwig just offered an Emerald Green Marine for their 110th Anniversary and ours sold out immediately, but, welcome back our proprietary

Rose Marine Pearl

! Our exclusive Ludwig finish and available to order now. (Just like the vintage "lavender pearl" that Ludwig used to offer in the 30s and 40s). Classic Maple sets JUST ORDERED in 8x12, 14x14, 12x18 (Jazzette) HERE, or 8x12, 14x14, 14x20 HERE, or 9x13, 16x16, 14x22 HERE, with snares, and also available to order in any other standard Classic Maple size. Limited quantities so contact Steve now for pricing and lead times. And, we can slo do Legacy Maple and Legacy Mahogany!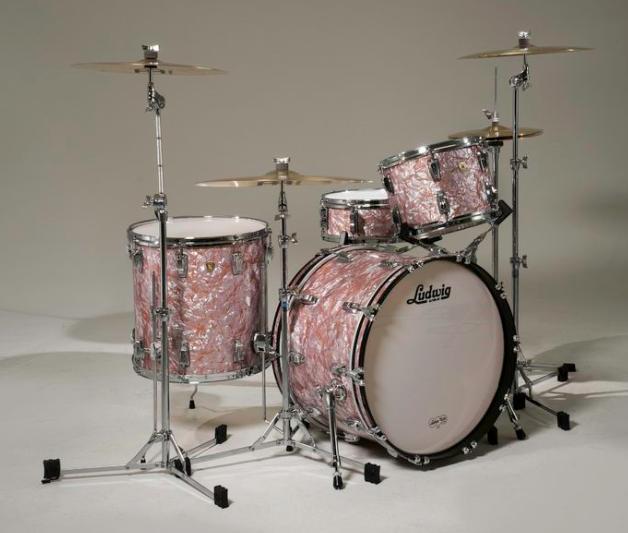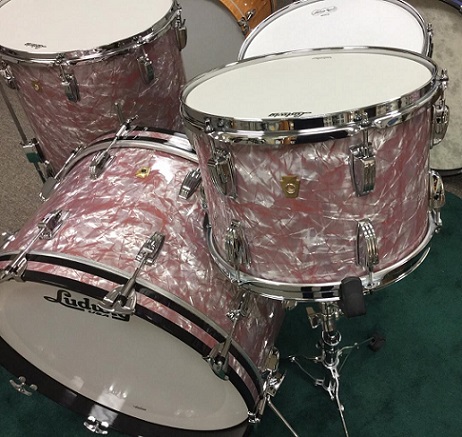 Gretsch HOT OFF THE PRESSES! Ltd to 30 sets. New for 2020, and we have 3 sets coming. This is Gretsch USA Custom 12/14/18/5x14 with incredible River Cypress from a log that was submerged for 60-150 years. Pre-order now for 2020 delivery. HERE.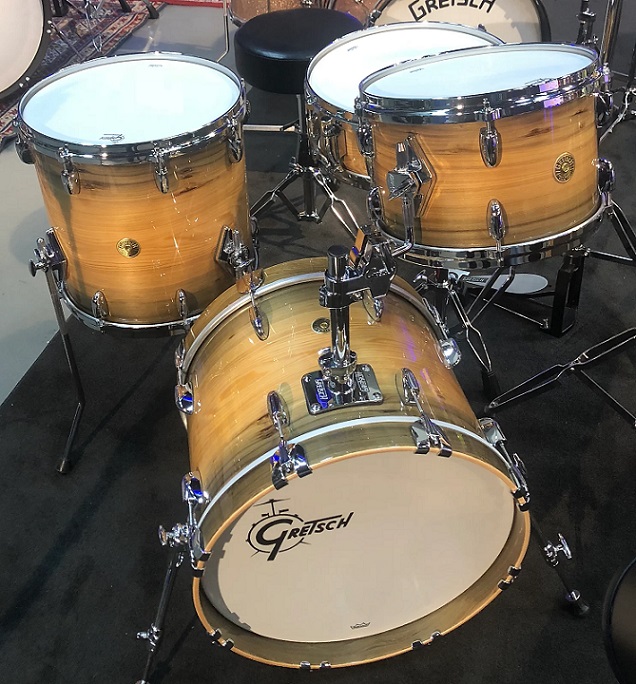 Ludwig 1 owner. As close to NOS as you will get!!! Drums, all stands, pedals, original heads! On our Illinois Reverb store HERE.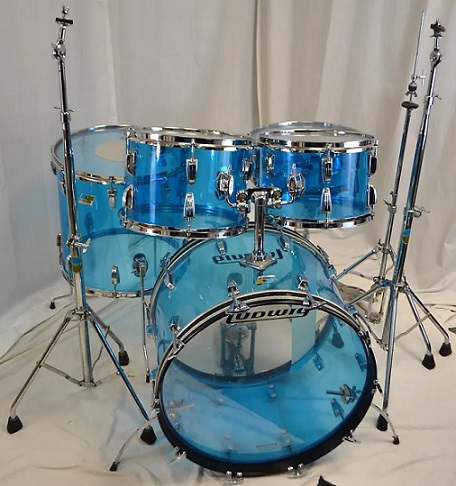 Craviotto SOLID-era 7x14 snare drum in rare Oak. In our Reverb store HERE.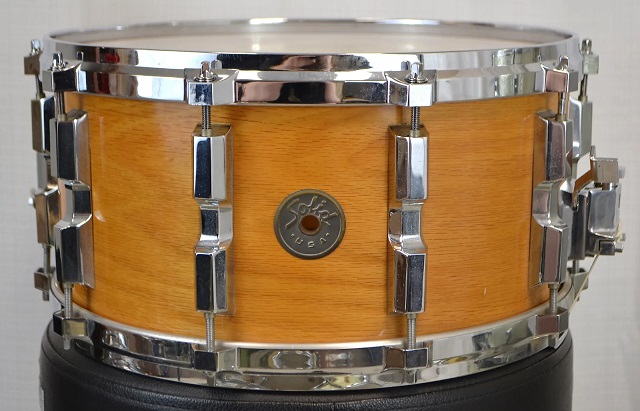 Gretsch one-off factory 3D Moire 8x12, 14x14, 12x16 BD! See it at our NY Reverb store HERE.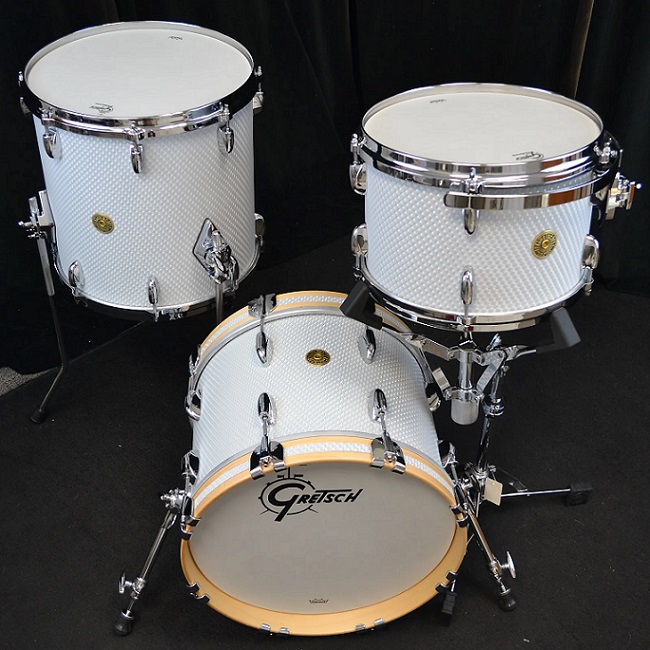 Sonor SQ2 with Vintage Beech shells and American Walnut veneer. 12/14/20. See it on our Reverb store and check Steve's video! HERE.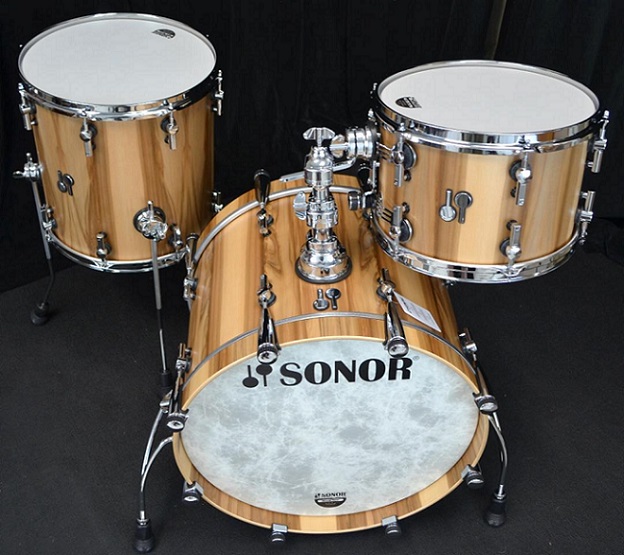 Grestch USA Custom special "Gold Top" gloss lacquer. A very special finish by Gretsch designed to honor the Gibson Les Paul "gold top" guitar finish from the 50s. 12/14/20. On our Reverb store HERE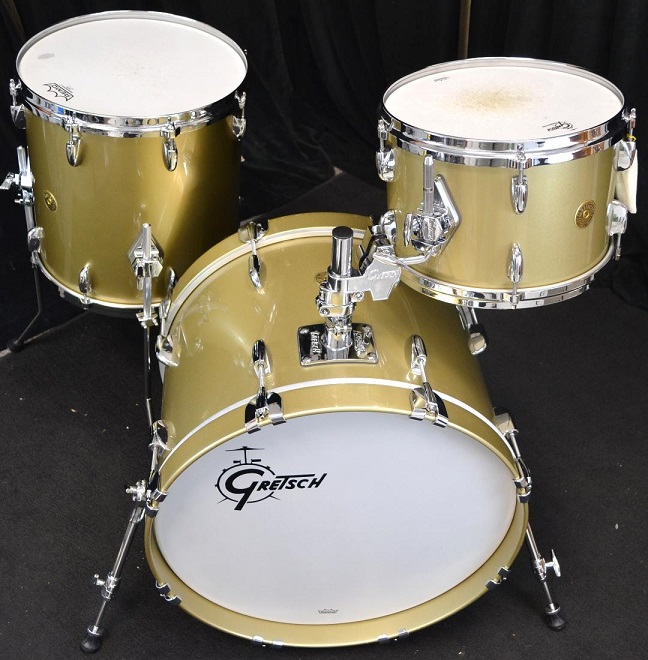 Ludwig 110th anniversary Diamond Flash Legacy Mahogany 13/16/22 and 6.5x14 available. Very limited. IN STOCK AND READY TO SHIP. See it on our Reverb page. HERE.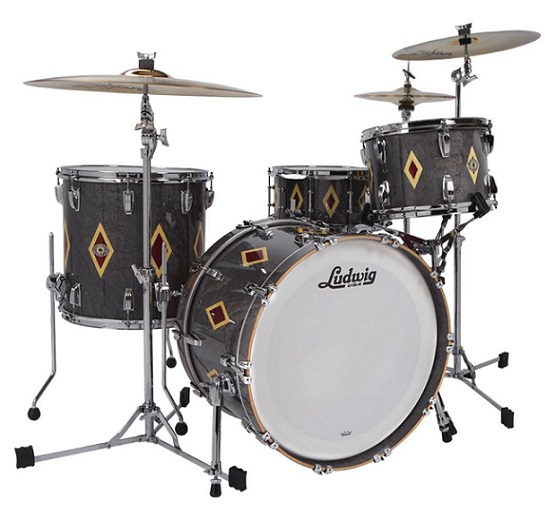 ALL GRETSCH SNARES AND SETS INCLUDING OUR USA CUSTOM, BROADKASTER, AND BROOKLYN SHELL BANK DRUMS. We have them IN STOCK, OVER 200 DRUMS. NO WAITING 22 WEEKS! See them on our Reverb stores: ILLINOIS: HERE. NYC: HERE. Fork's Drum Closet, Nashville: HERE. We are the largest dealer worldwide of USA-made Gretsch drums!

OUR VIDEO CHANNEL: HERE
See the latest on Steve's Drums Facts. We talk about the differences in shells, edges and sound quality of the 50s-70s USA drums. HERE.

NEW! Steve's Video Selections page. HERE.


NEWS
May 8, 2015: Our Maxwell Drums Nesting Kits reviewed in the June issue of Modern Drummer. Great review! See and buy the kits HERE. Or, call us at 212-730-8138 and place an order for one! READ THE MODERN DRUMMER MAXWELL NESTING KIT REVIEW HERE.

Latest Videos: Steve demos a wood dyna: HERE. Steve on Louie Bellson's kit: HERE. Steve on WFL vintage kit: HERE. Steve on new Ludwig Legacy Mahogany: HERE. Steve on new Premier bop kit: HERE. Steve on Craviotto Center Stage kit: HERE.
Jan 19th: EXCLUSIVE for us with Ludwig: Rose Marine Pearl!! See it HERE.


Anyone out there wondering if they should buy a Gretsch USA jazz kit? We'll settle that for you. Just click HERE.
9/17/13: Billy Gladstone drum set news!HERE.
VIDEO CHANNEL: See all of our videos here: youtube.com/stevemaxwelldrums We've got over 130 videos.
LATEST PRODUCTS: cymbals, drum sets, snares, all items ALL THINGS GRETSCH: sets, snares
ALL CRAVIOTTO: Here VINTAGE & NEW: sets, snares
SEE HOW WE SUPPORT MUSIC VENUES: Here
NEWS AND INFORMATION SECTION:
3/17/12: Now, Maxwell Drums brings you even MORE custom options for your Craviotto drum set! Click Here:
12/15/11: THIS IS INCREDIBLE! The rarest set I have ever seen! Far more rare than Top Hat and Cane. One of a kind, Leedy Autograph of the Stars over WMP! The only example ever to surface, and it is a 71 YR OLD FULL, COMPLETE KIT FROM THE ORIGINAL OWNER'S FAMILY. UNREAL! Click Here. And now we also have: One of Joe Morello's drum sets. Very cool and lots of history here. Click Here:
11/16/11: Another First From Craviotto: New lug style bop kit!! Click Here.
8/23/11: NEW! Craviotto "hybrid bearing edges" are here!! See our exclusive video of this great new innovation from Craviotto: Click Here.
NEWS! We have a new Video Program section of our site. It is managed through MaxWeb Productions, which is the video production division of our business. Our website is evolving into a mini media station and the new video section is a big part of the website evolution initiative. We'll have product specific videos, interviews, instructional videos, special interest and more. Check this section out frequently. Updates will be made often. Click Here.
LATEST PRODUCTS: Click Here Items are coming in FAST. Lots of vintage up here already, and LOTS more going in daily with some very cool recent additions!
EBAY auctions. Some special deals! Click Here
STEVE'S FEATURED PRODUCTS: Click Here
STEVE'S SPECIAL SALE ITEMS: Click Here
STEVE'S CELEBRITY AND ULTRA RARE DRUM GALLERY: Click Here
STEVE'S VINTAGE TIPS: Click Here
STEVE'S DEAL OF THE DAY: Click Here
MORE FUN STUFF BELOW:
Please always feel free to call Steve's cell directly at 630-865-6849 ANYTIME at all. We definitely want to communicate with you. The highest quality service is our hallmark, and we take this very seriously. Steve